2023 GMC Hummer EV: Coming Soon to LaFontaine Buick GMC Highland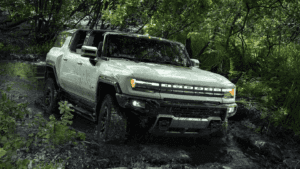 There's a revolution coming, and you can be one of the first to own the game changing 2023 GMC Hummer EV, the world's first ever all-electric truck and SUV. This vehicle represents the bold future of electric trucks and SUVs, while also carrying on the proud legacy of GMC Hummer vehicles, with powerful performance, grand design, and progressive technology.
The 2023 GMC Hummer EV is in high demand, so reserve yours now with LaFontaine Buick GMC Highland to join in what GMC is calling "a quiet revolution."
Model Preview
The 2023 GMC Hummer EV will be available for purchase between early 2023 and spring 2024 and will be offered in a variety of trims. The MSRP is estimated to range from $79,995 to $105,595, depending on the trim. The estimated mile range of the 2023 GMC Hummer EV spans from 250+ to 300+ depending on the engine type. Expect more details to emerge about this exciting new GMC vehicle as the impending arrival date approaches.
Features Galore
Thanks to advanced modern feats of engineering, the 2023 GMC Hummer EV will be equipped with an exceptional and comprehensive inventory of driver-assistance safety and convenience features.
Standard features include super cruise hands-free driver-assistance, high definition surround vision, infinity roof, 400-volt DC fast charge, and Adrenaline Mode. Available features include adaptive air suspension, adaptive cruise control, and 800-volt DC fast charging capability.
Special features for the 2023 GMC Hummer EV include:
Torque vectoring
Watts to Freedom
22" premium wheels with 35" OD-all terrain tires.
Infinity roof with transparent sky panels
Lunar shadow interior with exclusive interior badge
Available special features will include transparent sky panels and the exclusive extreme off-road package.
Reserve your 2023 GMC Hummer EV Today
The time is now to reserve your 2023 GMC Hummer EV at our GMC dealership in Highland, MI. Meet with our GMC finance experts to discuss financing options for the 2023 GMC Hummer EV.
Once your vehicle is ready for purchase you will be notified by our dealership to complete and submit your purchase order. This will occur several months before the scheduled production date of the model you reserved.
Get in contact with one of our GMC dealers for more details on this process and to reserve yours 2023 GMC Hummer EV today.