Do It All in the 2023 GMC HUMMER EV Pickup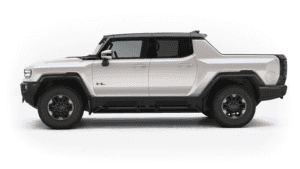 With a base MSRP of $98,400, the 2023 GMC HUMMER EV Pickup is perfectly positioned to make quick work of any preconceptions you might have about electric vehicles in general and all-electric trucks in particular. Capable, eco-friendly, and beautifully designed, the new GMC HUMMER EV Pickup is a game changer for motorists who need a versatile pickup for their day-to-day but want to simultaneously limit their impact on the environment.
Is the Truck Easy to Operate?
Our GMC dealers invite you to test-drive the GMC HUMMER EV Pickup. Despite its size, the truck is easy to operate in tight spaces. Rear-wheel steering makes it a cinch to park the truck on the street or in a dedicated parking spot.
The pickup's rear wheels can turn up to 10 degrees in the opposite direction from its front wheels. That ability gives the pickup a noticeably tight turning circle. A feature referred to as CrabWalk enables the front and rear wheels to turn in the same direction. This capability empowers the pickup to slide past obstacles diagonally.
Can the Pickup Handle Some Off-Roading?
Outdoor enthusiasts are always thrilled when they view the GMC HUMMER EV Pickup at LaFontaine Buick GMC Highland because the truck is outfitted to get them deep into the woods. The truck has two modes for off-roading, Off-Road and Terrain. Choosing Off-Road is a smart move if you're going to travel off-road quickly. Terrain is the better choice if you plan to take your time as you do some rock crawling.
Oversized tires allow the truck to bypass obstacles without worry. Skid plates and fender flares increase the pickup's off-road credibility.
Getting you home after an off-road adventure is no problem for the GMC HUMMER EV Pickup. Powered by a 212.7-kWh lithium-ion battery, the truck can get up to 60 miles per hour from a dead stop in just three seconds.
Does the Truck Have a Touchscreen?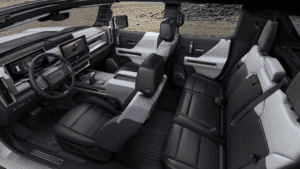 All new GMC vehicles boast the latest technology features. For example, the GMC HUMMER EV Pickup has a 13.4-inch infotainment touchscreen and a 12.3-inch digital gauge cluster that's reconfigurable. Both screens were made in conjunction with video game maker Epic Games, so they're easy to use.
Ready to Test-Drive the 2023 GMC HUMMER EV Pickup
Are you ready to electrify your experience behind the wheel? Apply for GMC financing to buy or lease the 2023 GMC HUMMER EV Pickup through our GMC dealership today.