How Does Paying a Car Loan Work?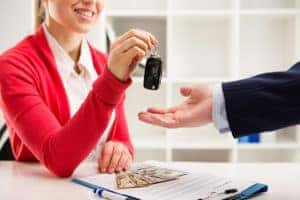 When they visit our Highland, MI GMC dealership, many drivers ask us about how they should handle their GMC payment if they decide to take out an auto loan, which is when we refer them to the experts in our GMC finance center. As you learn about loan payments, you'll see that a lot of things factor into the amount that your loan payment will ultimately be.
Things to Consider
Being a Michigan GMC dealer, we can tell you that you'll be required to make monthly payments when you secure an auto loan. The length of your loan is referred to as its term. The term you choose will have a big impact on your loan payment. In general, the longer your term is, the lower your loan payments will be.
While lower loan payments may pique your interest, a longer term may result in you paying more for your vehicle than you would have had the term been shorter. That's because interest is also factored into an auto loan.
The amount of money you put down when you purchase one of the latest GMC models or a Buick vehicle like the Buick Encore GX is referred to as your down payment. Drivers who put more money down upfront often have lower loan payments because they borrowed less money from a lending institution.
To see how much your loan payment will be in various scenarios, use our handy payment calculator!
Making Loan Payments
If you've signed an auto loan, you have several options to make your loan payments. You can send your lender a check every month via snail mail, for example. To make sure your bank gets the check on time, make sure you send your check several days or a week before your payment is due.
Many lenders make it a breeze to make loan payments over the phone or the internet. In many cases, you can set up a scheduled monthly draft so your payment will be drafted automatically when your due date rolls around.
Drivers who are about to type "GMC trucks near me" or something similar into a search bar should remember that they'll need to pay for the model they want to buy. If you want a new or pre-owned vehicle, head over to LaFontaine Buick GMC Highland to secure an auto loan with a monthly payment that will fit seamlessly into your budget now.