LaFontaine Buick GMC Highland Answers Your Questions About Electric Vehicles
With the rapid increase in the popularity of electric vehicles (EVs), more and more of our customers want answers to some common EV-related questions. If you're shopping for an electric SUV or GMC electric truck, this FAQ is for you.
How Important is EV Range?
No statistic is more important for electric vehicles than range. The higher the range of the EV you purchase at LaFontaine Buick GMC Highland, the more flexibility you'll have for commuting, road-tripping, and running errands. EV vehicles are rated for range and mileage by the Environmental Protection Agency. In the latter case, mileage is shown as 'MPGe'.
How do EV Tax Credits Work?
If you purchase an electric car or a plug-in hybrid, you're eligible to receive a nonrefundable EV tax credit from the federal government. This is a one-time credit that can only applies to the year in which you purchased the EV.
The exact amount of the credit depends on several factors, but you should expect to considerably reduce the price of a new EV. Put the savings towards your down payment, upgraded GMC parts, and more.
When is the Best Time to Charge an EV?
EVs can be charged any time of day or night. However, charging your electric vehicle overnight offers the biggest advantages in terms of lower rates and cost-savings.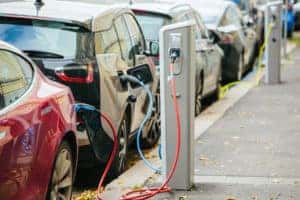 How can I Get the Most Out of My EV?
Getting approved for GMC finance and buying an EV provides terrific benefits right from the get-go. For example, you'll save money, help the environment, and decrease the load placed on the electric grid. There are also plenty of ways to further maximize your ownership experience.
For example, you should:
Apply for the aforementioned federal tax credit to reduce your upfront cost
See if you qualify for a rebate of $500 on the installation of a Level 2 charger
Take advantage of charging stations in public areas or at your workplace
Charge your vehicle frequently to ensure maximum efficiency and minimal stress
Shop for the Perfect EV Today
Quality manufacturing, premium features, state-of-the-art electric powertrains – the EVs manufactured by General Motors are top of the class. Visit with our GMC dealers today to learn more about our inventory, and which of our electric vehicles is perfect for you.