LaFontaine Buick GMC Highland Defines the Three Levels of Electric Vehicle (EV) Charging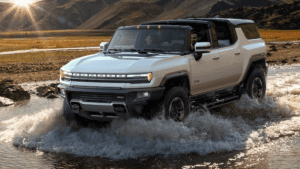 With the popularity of hybrid models and electric vehicles (EVs) growing by leaps and bounds, cities nationwide are working to grow their available charging station network. The speed of change can make it difficult to navigate the vehicle charging process, but we're here to help.
Level 1 Charging
Level 1 chargers are just regular wall outlets. This means they're reliable but take a very long time to charge an EV battery – usually around 20 hours for a 120-mile charge. While this type of outlet is too slow for regularly charging a full EV at home, it could be perfect for vehicles with smaller battery packs, such as plug-in hybrids.
All EVs sold by our team of GMC dealers come with a Level 1 charger and a separate cable for use with level 2 charging stations
Level 2 Charging
Level 2 chargers are a more powerful version of a Level 1 charger –5 to 7x faster, in fact. Level 2 chargers use a different type of plug than Level 1 and require installation and additional handling, so it may be best to consult the pros in our Buick parts department before you start the process.
The other option is to find a Level 2 charger in your area. They are most often located at grocery stores and shopping centers, but some office buildings offer them as well.
Level 3 Charging (DC Fast Charging)
Also referred to as 'DC fast charging' or 'DCFC chargers', Level 3 charging is easily the fastest way to refill your EV battery. Power output is 20 – 50kW, which equates to an 80 percent charge in just 30 minutes.
Not surprisingly, Level 3 charging also requires the most sophisticated components and charging station infrastructure. For this reason, such stations are almost always found along major highways at places like restaurants and conventional gas stations. If you have questions about level 3 charging, our experienced GMC service team is happy to answer them.
Contact Us Today for More Information
The type of charging station you use depends on your vehicle and needs. Factors such as station proximity, the amount of driving you do, and how much time you have to charge are important to consider. Contact LaFontaine Buick GMC Highland today for expert support.