The Ins and Outs of Oils for your Car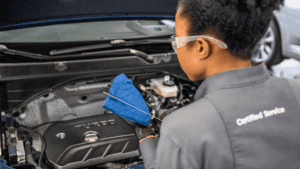 If there's one thing that's guaranteed when you become a car owner, it's that you'll need to get a regular oil change roughly every 3,000 miles. No one tells you much beyond that, so we're here to give you some insight on the different types of oil that can be used for your vehicle.
All of them provide different benefits depending on the specific needs for your car, and we want to equip you with the information you need to decide which one suits you best.
Conventional vs. Synthetic Motor Oil
When you come into LaFontaine Buick GMC Highland for an oil change, you're going to have a choice between conventional and synthetic oils. Conventional oils work with nearly every vehicle but are particularly useful for older models of cars and cars with more simple engines. Synthetic oil is what you need for more high-performance vehicles with a higher power under the hood.
Our dealership offers three specific types of oil:
1. ACDelco Gold Conventional Oil
This is the standard and most common option. It delivers great engine wear and corrosion protection since it contains special additives to keep your engine running smoothly. This is the best choice if you're unsure of which oil to choose since it works for almost all vehicles.
2. ACDelco dexos1 Full Synthetic Oil
This is definitely a step up in quality when it comes to motor oil. The oil doesn't break down as quickly since it has a higher resistance to oxidation. It also has better protection against harmful deposits and the formation of sludge. Plus, cold engine start-ups in the winter months will be no match for this oil's remarkable low-temperature flow and pumpability.
3. Mobil 1 Full Synthetic Oil
This oil retains its stability at high temperatures to resist oxidative thickening. It also performs exceptionally well in cold temperatures when it comes to starting the engine, lubricating the parts, and preventing wear and tear. If at any point your engine does get wear and tear, you can always count on being able to order GMC parts through our dealership.
In order to make it easier for you to keep up with your oil changes, we make it a breeze for you to schedule GMC service right online. If you're unsure about which oil to get in order to maximize your vehicle's performance, you can always ask one of our expert staff members at our GMC dealership in Highland, MI. We're eager to help you keep your car on the road as long as possible!