Tips on How to Maintain Your EV, Courtesy of LaFontaine Buick GMC Highland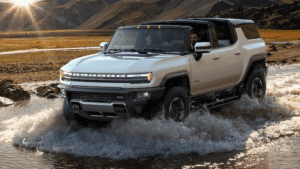 EV maintenance is just as important as maintenance for a traditional gas-powered car, though there are some considerable differences between the two. Follow these tips and you can expect your electric car to always be at its best.
What are Some Common Maintenance Needs for a EV?
Just like a gas-powered vehicle, a Buick EV requires a tire inspection, rotation, and pressure check at regular intervals. EVs and traditional cars also use the same type of wiper blades, so we'll replace the blades when needed while ensuring that the wiper fluid is always topped off.
Speaking of fluids, even though your EV doesn't use oil, it still requires fluid for the brakes and the battery. The latter requires cooling just like a combustion engine does.
Where and How Often do I Need EV Service?
Generally speaking, the maintenance schedule for your EV is similar to that of a gas-powered car. The biggest difference is that an EV has fewer Buick parts to inspect, and so service takes less time and is usually less expensive.
Regarding where you should go for service, we have all of the tools and technologies your EV requires. You probably won't find too many third-party service providers that can say the same. Moreover, it can be dangerous to try and service an EV without the proper training or qualifications.
What Does a Typical EV Maintenance Appointment Entail?
During a typical EV maintenance visit at LaFontaine Buick GMC Highland, we spend a good deal of time on over-the-air software updates for your vehicle's safety systems and infotainment platform. After all, there are fewer parts to be concerned with, since there's no combustion engine and thus no pistons, valves, or gears to be concerned with from a maintenance point of view.
Meanwhile, your EV's brakes won't require as much attention because they'll wear down slower than a traditional car. The reason for this is regenerative braking.
Get Buick GMC EV Maintenance Today
Our Buick dealership in Highland Charter Township is a full-service destination for all of your vehicle's needs. Schedule an appointment for EV maintenance today and trust our experienced service technicians to take great care of your car.