GMC Auto Repair at LaFontaine Buick GMC Highland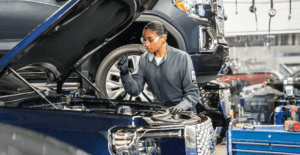 There are many reasons that you could need to stop in for GMC auto repair at our dealership, ranging from a simple oil change to part replacement after a bad accident. If you begin to notice that there is something wrong with your car, it can be extremely concerning until you know exactly what's going on and can have it serviced.
To learn more about the service tasks we provide and how we can help with auto repair, visit LaFontaine Buick GMC Highland today.
Services We Can Provide
If you need service, there are a number of tasks we can perform. Different levels of damage will require different care, and we can also perform full diagnostic tests if you're unsure of what the issue with your car exactly is.
Here are some of the services you can expect to receive here:
Tire Replacement
Oil Changes
Multi-Point Inspections
Brake Service
Battery Repair
Fluid/Filter Checks
No matter which of our excellent vehicles you're driving, be it a Buick Encore GX or a GMC Sierra 1500, the experts at our service center can assist you.
Signs You Should Stop By
Depending on the issue with your car, there are different symptoms and warning signs that may appear to alert you that it's time to get your vehicle serviced. It's important to pay attention to the way your car drives normally because these warning signs can be vital to getting your car fixed before problems get worse.
Here are some common symptoms to look out for:
Abnormal Noises While Driving: If you notice rattling or vibrating when you start your engine, your fluid levels could be low.
Check Engine Light: One of the most common symptoms of damage, this can be the sign of anything from an electric issue to a loose gas cap.
Bad Gas Mileage: If you notice fuel efficiency that's worse than normal, you could have an issue with your tires or air filters.
Visit LaFontaine Buick GMC Highland For Service
If you've become concerned over an issue with your vehicle or it's time for regular maintenance, visit our GMC dealer Michigan today. Our team of factory-trained technicians will first perform a complete diagnostic test of your vehicle and determine the exact issues before walking you through the repair. Visit us today to learn more!