LaFontaine Buick GMC of Highland Answers a Popular Question: "When Should You Replace Your Car Rather than Repair it?"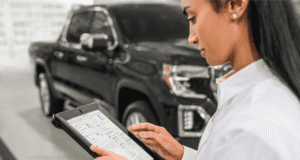 If you're current car has a lot of miles on it, the question of whether to replace it rather than repair it becomes increasingly important with every passing mile. Eventually you'll reach a point where buying a new GMC vehicle is more advantageous than GMC repair.
Cost of Repairs Outweighs Value
When you reach a point where the cost to repair your Buick sedan or GMC truck exceeds the vehicle's value, replacement becomes very attractive. The older the car, the more frequently repairs are needed – and in parallel, these repairs become bigger and costlier. Before long, the idea of paying hundreds of dollars to squeeze every last mile out of an automobile just doesn't equate.
You can get a head-start on this issue by visiting our local Buick dealers and enlisting the support of our state-of-the-art service center for a full inspection. We can help you identify potential problems, advise you as to the related costs, and help you decide whether you'd be better off buying a new car instead of continuing to repair your current one.
Safety
With age and miles, a vehicle's overall safety decreases while the risk of a breakdown increases. This is inevitable, no matter how well-built the car. However, the newest vehicles at LaFontaine Buick GMC of Highland integrate advancements in frame design and structural engineering that extend lifespan far beyond that of late-model automobiles.
Additionally, the older the model year, the less likely a car is to have the latest safety features – driver assistance systems such as blind-spot monitoring, lane-departure warning, and adaptive cruise control. These technologies are only becoming more affordable in our latest vehicles, so if your current car is starting to show its age, now might be a great time to invest in a new one.
Lifestyle Changes
Changes in your lifestyle might dictate it's time for a change in vehicle. Are you part of a growing family, or a recent empty nester? Does your new job require a longer commute or more time on the road? Do your recreational pursuits require a vehicle with more space or capability – maybe the need to haul items and gear, or tow a boat or trailer?
Lifestyle changes are another big reason to consider leaving your old car behind and buying a new one – and with our latest GMC incentives, buying new is easier than ever.