Details Car Shoppers Should Know About the EV Tax Credit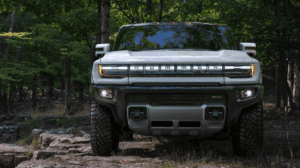 In recent years, consumers have expressed a strong interest in spending their hard-earned dollars on products and services provided by companies that share their values. For people concerned about the environment, that means seeking out automakers that manufacture eco-friendly vehicles, which the GMC team does. If you're interested in a GMC EV, then you'll want to know all about the EV tax credit and how it can benefit you.
Dollar Value
The Inflation Reduction Act modified the pre-existing EV tax credit through 2032. Although that's the case, the credit is still a nonrefundable tax credit offered to eligible drivers by the Internal Revenue Service. This type of credit lowers your tax liability by the amount you're allowed to claim.
Taxpayers can only claim the EV tax credit once for each electric vehicle they purchase. If you contact our Highland Charter Township, MI GMC finance center to inquire about the credit, you'll learn that the amount of the credit depends on whether you purchase a new or pre-owned EV.
Eco-conscious motorists will be happy to know that the maximum federal tax credit for a new EV is $7,500. For previously owned EVs, the maximum credit is $4,000 or up to 30 percent of an EV's purchase price, whichever is less.
Price Cap
As you look through the new GMC models at our location, you'll see that their prices vary between models and trims. Similarly, the availability of the EV tax credit is dependent upon an automobile's price and body style. New vans, SUVs, and pickups must have an MSRP of $80,000 or less for purchasers to qualify for the tax credit.
Vehicles with another type of body style must have an MSRP of no more than $55,000 for consumers to qualify for any part of the tax credit or all of it. The price cap for a previously owned EV is $25,000.
Income Limitations
If you're going to shop for a GMC EV at LaFontaine Buick GMC Highland, you should know that your income may influence your ability to claim the EV tax credit. Single tax filers have an income cap of $150,000 for a new EV and $75,000 for a pre-owned EV. Income caps vary for people who file their taxes differently, so it's advisable to consult with a tax expert.
Shop for an EV with LaFontaine Buick GMC Highland
Are you eager to have a GMC EV in your driveway? Shop from home or visit our EV dealership in Highland Charter Township, MI today.