You Asked, LaFontaine Buick GMC Highland Answers: How do Hybrid, PHEV, and Electric Cars Differ?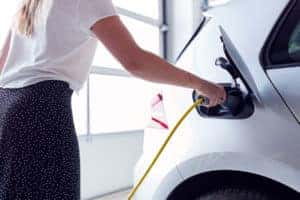 For a great selection of PHEV, hybrid, and GMC electric vehicles, shop our new car dealership. Whether you're looking for a fuel-efficient Buick SUV or an eco-friendly GMC truck, we'll help you decide which powertrain suits you best.
Hybrids
The powertrain of the hybrid models at LaFontaine Buick GMC Highland includes a gasoline engine, an electric motor, and a battery pack. At low speeds, the electric motor does the majority of the work. At high speeds, the gas engine kicks in. This is an essential balance that ensures excellent gas mileage.
Moreover, hybrid cars:
Produce lower emissions compared to combustion-engine vehicles
Don't need to be plugged in
Can be filled up at a regular gas station
Are usually more powerful than gas-only automobiles
PHEVs
With a plug-in hybrid electric vehicle (PHEV), can drive for a number of miles on just electric power before switching to the gas engine.
These Buick SUVs have a larger battery than regular hybrids, which translates to considerably more all-electric range. PHEVs offer other benefits, such as:
20 – 40 miles on electric power
Good fuel economy, even after the electric range is depleted
Provide the benefits of a pure EV for short drives or commutes / gas engine for longer trips
Many PHEVs are eligible for federal tax incentives
EVs
EVs are the most efficient of all, offering an all-electric driving range of up to 300 miles before needing a charge. Instead of a combustion engine, EVs utilize electric motors powered by large battery packs.
Get GMC financing for an EV and you'll also enjoy:
Convenient at-home battery charging
Lower maintenance costs due to less parts
Zero tailpipe emissions
Exceptionally quiet cabin and smooth ride
Exciting acceleration because the electric motor delivers instant power
Buy an Efficient Automobile Today
Contact our team of knowledgeable GMC dealers today for an up-close look at our great lineup of fuel-efficient automobiles. Whether you're partial to a hybrid, PHEV, or EV, we'll ensure you get a great car at a great price.