Take Care of These Services in the Fall to Prepare for Winter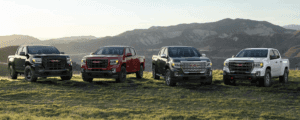 We know area drivers have several GMC dealerships to choose from, which is why we do everything possible to make our location stand out from the pack. One of the many things that distinguishes our GMC dealership from its competitors is the long list of services our certified, factory-trained technicians perform in our GMC service center.
Prioritize These DIY Tasks
While it may seem premature, the fall is when you should start prepping your vehicle for cooler weather. As a Michigan GMC dealer, we can tell you this – cars that aren't prepared for inclement weather can take a beating as the seasons change.
There are a few things you can do to prepare for wintry weather that likely won't require you to bring your automobile to our GMC service center. You can pick up a new set of windshield wipers in our Highland, MI GMC parts center and install them, for example. Similarly, you can start your vehicle and make sure all of its lights are in working order.
How We Can Help
Our team can further help you prepare your vehicle for wintry weather. For starters, we'll test your battery and clean off any corrosion we notice on or near its terminals. If your battery is weak and unlikely to make it through winter, we'll install a new one for you.
While you may not realize it, running your air conditioning on occasion at least is a wise move during the fall and winter. We'll look over your A/C to make sure it's operating properly. We'll do the same for your heater and defroster.
Does your automobile have four-wheel drive? Since it may have been a while since you used it, we'll inspect your 4WD system to ensure it will help you navigate snow- and ice-covered roadways safely when you need it.
Is your current vehicle an older model that has sealed-beam headlights? If that's the case, you may want to make an appointment to have them replaced with halogen headlights. Doing so will improve your visibility and make driving a safer endeavor during the darker winter months.
If you're going to have our team prep your vehicle for chillier temps – something we strongly advise – we encourage you to look through our GMC service coupons now.
Are you eager to prepare your automobile for the challenges that fall and winter often bring to our area? If so, we invite you to visit LaFontaine Buick GMC Highland for the OEM parts and GMC service your car needs to get ready for a new season.