The Best Transmission for You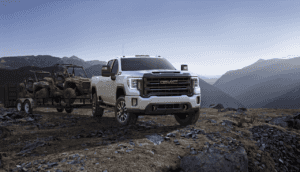 Customizing your car can come in all forms. Each decision and every GMC part you choose can change the capabilities of your vehicle, even the tire style. Here are the different transmissions to note when considering which transmission may work best for you.
Manual Transmission
Manual transmission refers to transmission style that require the driver to manually shift gears. This style is also known as stick shift or standard transmission. One major pro to the manual transmission is its ability to give the driver a sense of complete control. The manual transmission is also recognized as being cheaper to maintain.
But there are also some cons to the manual transmission. First, there's a steep learning curve. With most modern vehicles leaning towards automatic transmissions, it can be hard to suddenly learn stick shift.
Another slight downside, though, is its need for concentration. Since most moves are determined by the driver shifting gears, you can't take too much attention off of the car. It can also be hard to drive in traffic with the starting and stopping working on the gears. Head to our GMC dealership in Highland, MI if you're a car owner that likes to feel every nuance of your vehicle and our GMC dealers can show you our inventory of manual transmission vehicles.
Automatic Transmission
Automatic transmissions are very common in most modern cars. These use torque converters, clutches, and planetary gears to shift the car gears and move the vehicle.
Pros for automatic transmissions are having space for gears and better traction. In terms of traction, we mean that automatic transmissions are better for handling steep inclines and heavy traffic.
Cons of automatic transmission are that malfunctioning gears can hurt almost anything in the car, including the audio system. Automatics are also more prone to failures, though the team in our Buick service center will do their best to prevent that during regular maintenance.
Continuously Variable Transmission
A final, less known type of transmission is the continuously variable transmission, where belts, pulleys, and sensors push the vehicle forward. This method maintains acceleration without the need for shifting gears and is also known as a shiftless transmission. These are efficient on gas usage but require more maintenance and don't handle off-road adventures well.
For more questions about transmissions, feel free to reach out to us at LaFontaine Buick GMC Highland.